JSSR Auction Summary: May 2015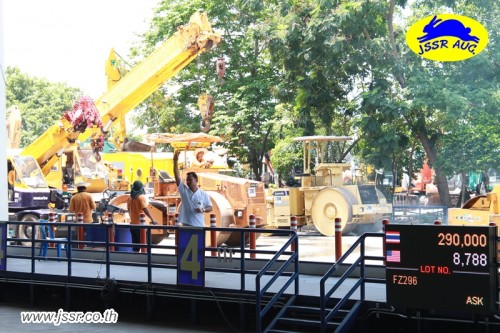 In May, auction items were lesser than April's. This reflects a decrease in consignor's confidence due to the falling auction prices as the market is still weak.
Still in demand are machines used for crushing/breaking job, wheel loaders, excavators 12 -13 Tons, focusing only on units in good condition and have lesser hours.
Prices adjusted down in 5 – 7 tons excavators, 20 tons excavators, forklifts, different types and sizes of rollers and latching equipments.
Prices decreased significantly for excavators of all sizes, forklifts, farm tractors and other agricultural equipment, miscellaneous items such as concrete mixers, dump trays, truck mounted cranes, air compressors, generators, welders, steel cutters, other mechanic tools.
May Auction Result as compares to April's
Mini-excavators, 1 – 5 tons, prices decrease by 10-15%.
Excavators, 7 – 18 tons, prices decrease by 10-15%.
Excavators, 20 tons, prices decrease by 10-15%.
Wheel loaders in good ready-to-use condition show no price change.
Farm tractors and agriculture equipment such as harvesters, hand guide tractor, rice binder, prices decline by 10-15%.
Forklifts prices decrease by more than 15%.
Civil work equipment prices decrease more than 15%.
Low buying power for Miscellaneous items and prices continue to adjust down.
Our company is still confident of the government management to recover the demands for machinery use. Prices drop steadily from complying with the state of the current economy.
[This analysis is for JSSR Auction results only which may differ from the general market]
Register as our website member to view past auction results at http://www.jssr.co.th/result_category.php