JSSR Auction Analysis: May 2013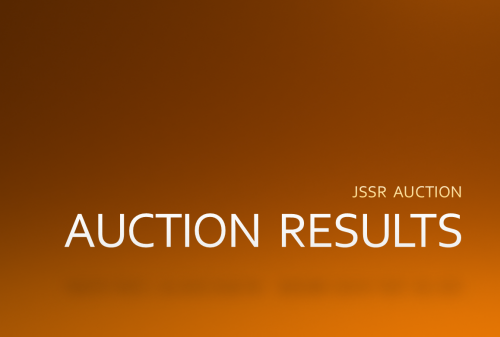 JSSR Auction Results Analysis:
This analysis is calculated based on the lump sum bid prices of total items in each category,
not the bid prices on individual items.
This analysis is an overall assessment of JSSR Auction results only.
Auction results for May shown overall prices weakened slightly in comparison to the previous month.
There is a strong price resistance for Forklift, Farm Tractor, Excavator size 12 ton,
Rough terrain Crane and CAT 140G Motor Graders.
Excavators size 20 ton and 1-4 ton continued to show downward trends.
Forklifts size 1-2.5 ton and Wheel Loaders. This is caused by higher supply of equipment in these
categories in the auction market, and competition from new equipment market.
Also, there was a decline in prices of agricultural products and decreased in exports which
caused decline in demand for these equipment.
Thailand exports statistic for agricultural products.
Thailand exports growth in April 2013 increase against the base year.
Overall exports of Thailand in April 2013 continued to grow for the second month.
The exports value $18,698 million, expanded by 10.5% (YoY).
This is partly due to a lower based year value from the previous year.
However, the exports value in April 2013 declined by 10.0% (MoM) from the previous month,
and exports of agricultural products shrunk by 17.6% (MoM).
Meanwhile, exports of industrial products shrunk by 9.1% (MoM) due to decline in virtually all the major export items.
Ministry of Commerce has cut its target growth rate of exports in 2013 down to 7.0% – 7.5% (from 8.0% – 9.0%),
which is in close comparison with the estimates of 4.0% to 9.0% (median 7.0%) by Thailand Kasikorn Research Center.
(Information of Thailand Kasikorn Bank Research Center.)
As of April 2013, Office of Industrial Economics (OIE) stated Industrial Production Index at 159.16,
which fell by 3.84% compared to the same period of last year, and fell by 18.69% compared to the previous month.
Source: Associated Press Info Quest (28 Jan .56).
Comparison between May 2013 and April 2013 auction results are made with
respect to price per unit in types, models, number of equipment and conditions (on average).
Excavators size 20 tons, fall about 10-15% due to conditions of the equipment and demands.
Excavators size 10 – 12 ton does not show change significantly.
Excavators size 5-7 ton prices fall about 10-15% due to conditions of the equipment.
Excavators size 1-4 ton prices fall for the second consecutive month. Show more clearer signals downtrend.
Farm Tractors prices increased, signaling the upcoming seasonal demands, a very good sight.
Forklifts price shown no significant change and have strong demands for capacity size 3.5 ton and up.
This is consistent with the growth of the logistics market in this size (export & import).
The general construction of the real estate industry project is driven by
the strong market of domestic consumption which will continue to increase.
In miscellaneous items, there is a need of truck spare parts and accessories such as Lorry Crane , Self Loader etc.
The lower equipment demands is seasonal, indicated by the weakening
of auction sales to local and in neighboring countries
However, bid prices are reasonable in proportions to conditions of the auction items.
We maintain good outlook for the auction market this year.
Although demand will decline somewhat in up coming the third quarter.
However, it is expected to recover in the fourth quarter before the end of the year.
The investment increase in the stimulation of public and private sector
[This analysis is for JSSR Auction results only which may differ from the general market]