JSSR Auction Analysis: May 2014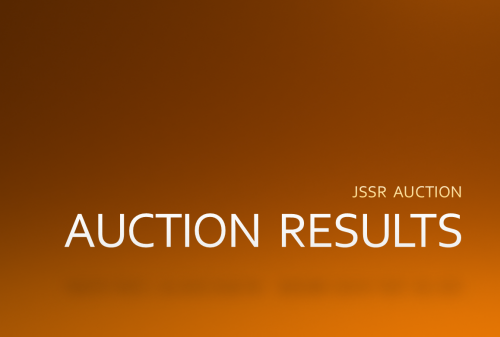 The uncertainty is certainty , take note from this auction result.
This auction reflects that bottom prices for these items have already gone: 1 ton up to 12 ton excavators ,
farm tractors , forklifts , used spareparts and engines, used truck etc.
Auction results in May 2014 as compared to April 2014:
1 – 12 tons excavators prices showed no significant change except for those units in good and ready-to-work conditions which showed 5 – 10% increase in price.
20 tons excavators prices declined by 10 -15% according to the poor condition of machines.
Farm tractors prices increased by 5 – 10% recover from previous low price and due to rice growing season.
Forklifts prices showed no significant change. However, price moved up more than 5% for the units which were in good condition with high mast and attachments.
Wheel loaders prices decreased 10 – 15%.
Electric golf cars prices declined by more than 20% due to decrease in market demand.
Equipment for civil works such as Rollers and Bulldozers prices fell by more than 10%
Miscellaneous items/spare parts/tools prices increased in the categories of truck parts and agricultural tools such as planters, hand tractors, diesel engines, truck cabins, rear axles, etc. While prices decreased for items such as truck mounted cranes, concrete mixers, air compressors, generators, industrial machine and general construction tools.
Due to political changes in Thailand many troubles are to be solved in the right way.
Our company has turn to positive outlook.
Thai market is done enduring the bad news. The remaining Q3 and Q4 will probably see upward direction
for machine trading again and may help compensate for the numbers in the previous second quarter.
The company expects coming auction of June will bring better result.
The Q3 of this year will have a variety of items to bid on, and help increase the lot numbers in to our auction sale.
[This analysis is for JSSR Auction results only which may differ from the general market]
…………………………………………………………………………………………………………………………………………
The Nation May 30, 2014 1:00 am
The State Enterprise Policy Office (SEPO) will propose to the National Council for Peace and Order (NCPO) to push for investment under the joint investment act, public-private partnership (PPP) and planned infrastructure fund,
while the Finance Ministry's permanent secretary said boards of directors of state enterprises under the ministry may be changed.
Prasong Poontaneat, SEPO director-general, said the Office's internal meeting would prepare information,
which would be forwarded to the NCPO's economic team. All state enterprises will meet on May 31.
The Office would propose public-private partnership, investments beyond Bt1 billion under the joint investment act and plans to set up infrastructure funds, Prasong said.
State enterprises' disbursement of the investment budget would also be speeded up for fiscal 2014 and was planned to be close to the target of Bt400 billion.
Finance permanent secretary Rungson Sriworasat said the NCPO has asked the ministry to review the role of boards of directors under the ministry and there might be adjustments as appropriate. Some results will come after the May 31 meeting between SEPO and state enterprises.
The Fiscal Policy Office director-general, Somchai Sajjapong, said the Thai economy had been through the bottom on expectation of a 1.5-per-cent expansion in the second quarter of this year and 3-4-per-cent growth in the third quarter. The fourth quarter is expected to see a higher growth figure. Growth is targeted at close to 3 per cent for the whole of 2014.
Domestic consumption could lead investment, Somchai said. The Bt90-billion payment to rice farmers could drive the economy. The NCPO plans roadshows to woo foreign investors after an announcement of its road map for the Thai economy.
Somchai said the Thai economy could expand more than 2 per cent this year and "we will try to reach the NCPO's growth target of 3 per cent and this depends on the funds, which will come in for the rest of the year."
The Finance Ministry, the National Economic and Social Development Board, Bank of Thailand and the Budget Bureau met yesterday on the fiscal 2015 budget for the first time.